About Universal Wellhead Services
About UWS
Universal Wellhead Services, LLC "UWS" was formed April 2010. (UWS provides drilling and completion designs, new and remanufactured wellhead equipment, and service personnel to the oil and gas industry.) Our primary focus is the sale and installation of wellhead equipment, ancillary product lines which include valves, manifolds, frac trees, repair, remanufacture, and field service. Our products are used both in the drilling and completion phases of the oil and gas industry. UWS has in-house machine capabilities which allows us to quickly and efficiently repair existing customer-owned wellheads. We maintain computer-generated inventory programs that enable us to utilize our customers' inventory while providing them with detailed accurate inventory reports.
UWS has offices and full-service shops based in Corpus Christi, Odessa, Houston, Texas; Shreveport, Louisiana; Newcomerstown, Ohio.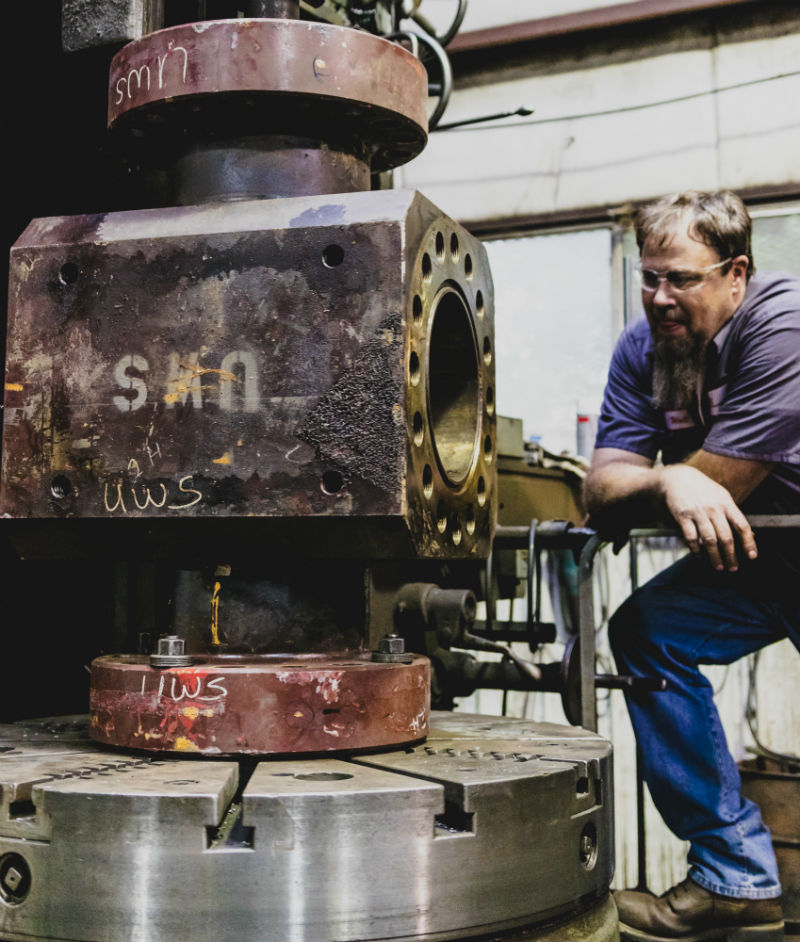 Our Mission:
Universal Wellhead Services Holdings, LLC is the premier Wellhead provider for Drilling, Completion, Production and Work Over Operations in the U.S.A.; focusing on safety, professionalism, utilization of extensive field, engineering and application experience while supplying the highest quality and most reliable Wellhead Components in the Oil and Gas Industry.
Our Vision:
Universal Wellhead Services' vision is to become the Nation's premier wellhead service company, by providing innovative solutions, superior customer service, and operating with unwavering ethical and safety standards in the Oil and Gas Industry.
Our Values:
Universal Wellhead Services' core values are the foundation of our company, essential to our success and serve as the lens through which we evaluate every business decision. Our commitment to these values, in both words and actions, builds a stronger, healthier company. Guided by our values of safety, excellence, experience, and innovation, UWS works hard to earn the high regard of our clients. Our values promote trust, openness, teamwork and professionalism, as well as pride in what we do and how we conduct business.
SAFETY
Priority number one. We are focused on our own personal safety as well as the safety of others. Proper tools, and associated calibrations and certifications are provided to work safely through our QHS&E program.
EXCELLENCE
We maintain the highest standards in quality, integrity, and accountability, allowing us not only to meet and exceed our goals, but also to earn your trust. Our locations are strategically located to meet all of your equipment and service needs. We deliver what we promise. We believe the quality of our service defines who we are.
Innovation
We are resourceful, and strive to apply the right technology and solution every time. We have the ability to design new equipment to meet your needs, and can utilize existing customer property with our re-manufacturing capabilities. We continuously improve our processes and find innovative solutions to the technical challenges you face.
EXPERIENCE
We seek out top performing personnel and hire the most experienced, best performing staff available. Our combined knowledge and experience in all sectors of the wellhead industry surpasses our competitors, and is the key to our success.
Our Safety
UWS has a relentless commitment to the health and safety of our employees and clients, devoted to maintaining the highest levels of safety and strive for zero incidents, injuries and illnesses. We recognize that we earn the right to operate every day by developing our assets responsibly and in an environmentally sound way. All of our employees are trained in current worksite safety procedures as well as how to work safely with certified, properly maintained equipment. We know that by keeping our team safe, we are able to keep our customers' operations moving forward.
We are members of the following networks, and proudly align our standards with theirs to enhance safety for our workforce and the communities in which we serve: